View All Properties
The B&O Building
Property Highlights:
The property was originally completed in 1906 as the B&O Railroad Company headquarters. It is constructed in a Beaux-Arts style, with a concrete and steel structure. The first three floors of the exterior façade are clad in granite, while Bedford stone is utilized from the fourth floor and above. The trim is terracotta tile. The building's H-shape design allows for a large number of window offices. The ornate main lobby contains two white marble staircases, grand chandeliers, and many decorative details. In 2001, Baltimore's Commission for Historical and Architectural Preservation and the Maryland Historical Trust designated The B&O Building as one of the city's 10 most historically consequential buildings.
The property is currently operated as a mixed-use facility including office, retail, and a full-service hotel. Kimpton Hotels owns and manages the hotel, which operates as the Kimpton Hotel Monaco. The building's amenities include a health club, on-site restaurant, valet parking, 24-hour security, and conference/meeting rooms.
The property is located in Baltimore's Central Business District — three blocks from Pratt Street, the main thoroughfare — across the street from the Charles Center Metro station and walking distance to the Inner Harbor. It is strategically situated at the intersection of Baltimore and Charles streets, the starting point for all streets that are designated North, South, East, and West.
Suites range in size from 3,500 square feet to 16,800 square feet for a full floor. The smaller floor plates are ideal for mid-sized companies who would like a full-floor presence.
View Floor Plan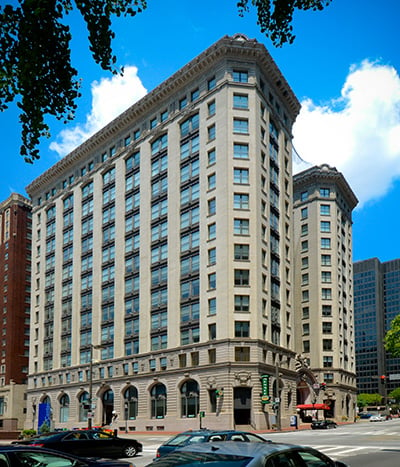 Address:
2 North Charles Street, Baltimore, MD
Floors:
First, Mezzanine, 4th, 5th, and 6th
Suite Sizes:
3,500–16,800 SF
Building Size:
65,000 SF
Broker Information:
Cushman & Wakefield
Brian Wyatt
(410) 347-7804
Additional Properties