View All Properties
Reston-Herndon Business Park
Property Highlights:
Reston-Herndon Business Park is a unique blend of retail, office, and warehouse space conveniently located on the eastern edge of Herndon, Virginia. Located on Spring Street, the park is easily accessible to the Fairfax County Parkway and the Dulles Access Road. The airport is only five minutes away. Reston-Herndon Business Park is situated on 16 acres and has been improved with five buildings totaling 236,000 square feet that were built between 1975 and 1982. The retail space fronts directly on Spring Street and includes 10 suites ranging in size from 1,120–4,150 square feet.
The office/warehouse spaces provide ceiling heights of 18–22 feet and range in size from 2,000–48,000 square feet. The parking ratio is 1 space per 1,000 rentable square feet. Bay sizes range from 4,000 square feet to 8,000 square feet. Bay depths range from 80–205 feet with a combination of drive-in and dock access available. The park offers additional space flexibility with two Security Public Storage facilities providing drive-in and climatized storage.
View Floor Plan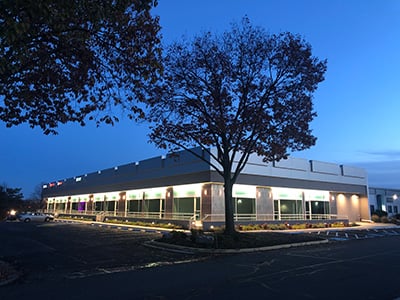 Address:
301–315 Spring Street; 300–302, 308–366 Victory Drive, Herndon, Virginia
Floors:
Single Story
Suite Sizes:
2,000–48,000 SF
Building Size:
236,000 SF (4 Buildings)
Broker Information:
Transwestern
Beverly Scheffler
(703) 749-9453
Additional Properties