View All Properties
Hampton Overlook
Property Highlights:
9201–9251 Hampton Overlook, part of the Hampton Industrial Park, consists of a 5.84-acre parcel located in Capitol Heights in Prince George's County, Maryland. The property is situated approximately 1.5 miles from I-495/I-95 and the Capital Beltway. The asset is located in close proximity to FedExField and the Largo Town Center Metro station. Hampton Park Boulevard connects to Ritchie Road to the south and Central Avenue to the north, which provides greater accessibility via a new interchange to I-495/I-95.
The property is improved, with two single-story suburban light industrial/flex buildings with a total rentable area of 73,723 square feet. Separating the two buildings is a 95-foot truck court to facilitate delivery of both vans and tractor-trailers. Building 1 provides 18-foot clear heights, bay sizes of approximately 3,321 square feet, and dock loading. Building 2 offers 16-foot clear heights, bay sizes of approximately 2,142 square feet, and drive-in loading. A total of 192 parking spaces are available at the property (2.6/1,000 square feet).
View Floor Plan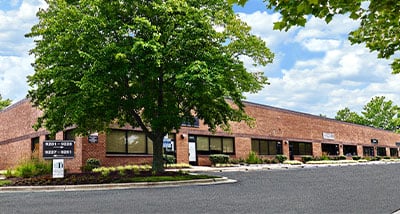 Address:
9201–9251 Hampton Overlook, Capitol Heights, Maryland
Floors:
Single Story
Suite Sizes:
2,100–20,000 SF
Building Size:
73,723 SF
Broker Information:
KLNB
Alan Coppola (301) 621-5114
Spence Daw (443) 574-1429
Additional Properties