View All Properties
Preston Court
Property Highlights:
Preston Court is a three-building, 180,000-square-foot multi-tenant office/warehouse project situated on 12.16 acres in Jessup, Maryland. The project is located in the Baltimore-Washington Industrial Park, an extremely convenient location for businesses that need to service both Washington, D.C. and Baltimore from a single site. It is also located equidistant from Route 32 and Route 175 and is approximately 2 miles from Fort Meade and 2.5 miles from the Maryland Food Center.
Containing three separate buildings of 64,500 square feet, 49,500 square feet, and 65,500 square feet, all spaces feature dock high loading, a 2-foot service platform, or drive-in access. The project also has a 1/3-acre fenced yard that provides vehicle or supply storage. Typical ceiling heights are 20–24 feet. Individual suites range from 4,000–40,000 square feet, providing significant flexibility for service-oriented businesses.
The asset was acquired at 70% occupancy and quickly leased to its current 100% level.
View Floor Plan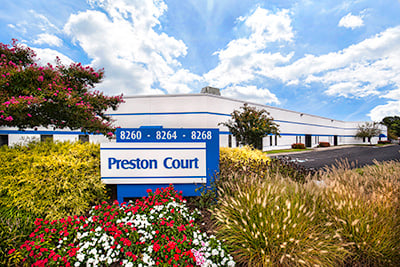 Address:
8260, 8264, 8268 Preston Court, Jessup, Maryland
Floors:
Single Story
Suite Sizes:
4,000–40,000 SF
Building Size:
180,000 SF
Broker Information:
CBRE
Michael Elardo
(410) 244-3128
Additional Properties