View All Properties
Corporate Drive Portfolio
Property Highlights:
The portfolio consists of 5 single story office buildings totaling approximately 130,000 square feet on over 13 acres located in White Marsh (Nottingham), Baltimore County, Maryland. Located at the intersection of I-95 and I-695 (Baltimore Beltway), the buildings offer tremendous access to two major highways and proved direct visibility from I-95. Two shopping centers — The Avenue (Federal Realty) and White Marsh Mall, a regional center (General Growth) — are within walking distance. In addition, various entertainment venues, outdoor ice skating, movie theaters, and indoor skydiving are also within walking distance.
The buildings have a combined parking ratio in excess of 5.0/1,000 square feet, which makes them ideal for all professional, technology, and medical businesses. Each suite is separately metered for electric, is improved with its own restroom and offers direct access from the parking lot to your suite. Typically, ceiling heights are 9-10 feet but up to 16 feet is possible. Four buildings have new roofs (2012-2014) and most suites have new, LED energy efficient lights and HVAC systems.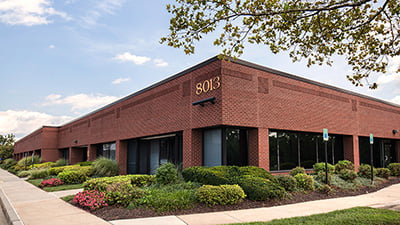 Address:
8007, 8013, 8015, 8019, 8023, and 8027 Corporate Drive, Nottingham, MD 21236
Suite Sizes:
Generally from 1,200 SF to 10,000 SF
Building Size:
41,676 SF (8007), 33,025 SF (8013), 15,855 SF (8015), 29,994 SF (8019), 9,486 SF (8023)
Broker Information:
MacKenzie Commercial Real Estate Services
Matthew Mueller
(410) 494-6658
Additional Properties