Tenant Resources
What To Know When Signing Your First Commercial Lease Agreement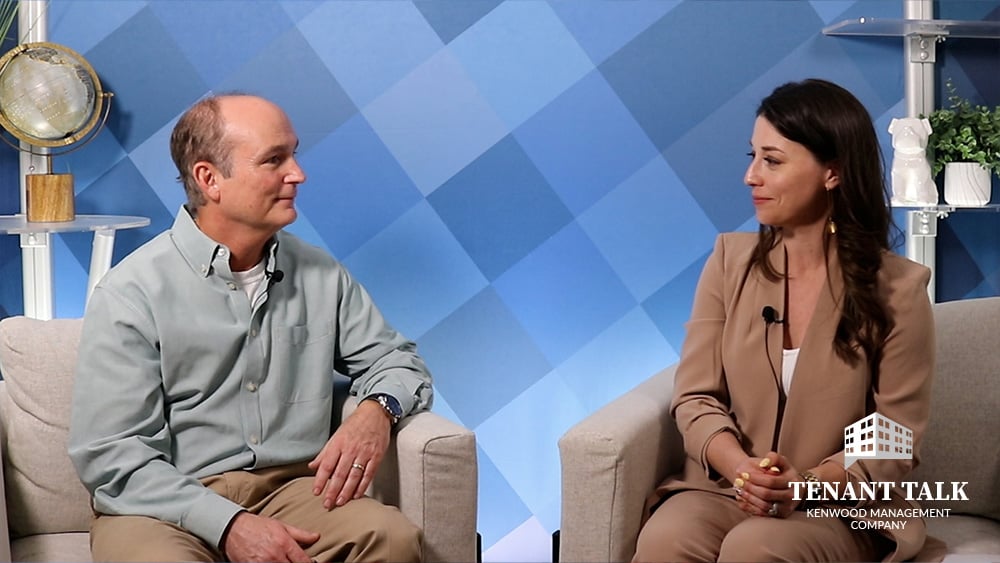 Updated March 21, 2023
Moving your small business into its first commercial space is an exciting time for both you and your business. However, it can be a bit daunting when the landlord puts the lease in front of you to sign. Don't go into it blind.
In Episode 3 of Tenant Talk (Season 2), Kenwood Management Principal Bill Singer and Illumine8 CEO and Founder Christina May discuss what steps a small business can take to find the right space and prepare to sign the lease. You can watch the full series on YouTube or listen to the podcast on Buzzsprout. Here's a quick recap.
Looking for Your Commercial Space
Before you can sign a lease for a business rental space, you'll need to identify an ideal commercial space for your business. Here are some steps you can take to get started:
Determine How Much Space You'll Need
Most frequently, commercial space is calculated by square feet. However, for many businesses, calculating how much square footage you'll need isn't always easy to determine.
Instead, think about how many offices, conference rooms, or cubicles you might need. Will you require lab space or a warehouse? If you can pass this information on to a landlord or architect, they can help you pinpoint what space would work best for you.
Engage a Commercial Real Estate Broker
A commercial real estate broker will have the resources and insights that will help you in the search for your first space. They'll also help you navigate rental rates, which vary depending on the building.
Consider Amenities
Beyond the space itself, what else will you, your employees, and your customers need to benefit the most from your location?
If your employees use public transit, a location near a metro station or bus stop is ideal. Are there nearby restaurants to grab lunch?
If your employees need to run a quick errand, are there stores nearby? If your business will have customers visiting, how easy is it for them to reach your location and find parking?
Think through these amenities that can help you find the best commercial space rent options for your business and customers.
Consider Subleases
You may come across space that's not a direct lease but a sublease from someone who is already leasing the space. A prime tenant often has rights to sublet. This option is perfect for businesses with simple needs. Whether or not you're considering subleasing, it's important to understand the prime lease terms.
Signing the Lease Document
Now that you have chosen a space and have the lease, you'll want to understand all the terms listed in the document. Here are some aspects of a lease to look out for:
Services Provided by the Tenant and Landlord
The commercial lease agreement will outline the services the tenant will receive for the space. For example, if you decide your business needs a security guard, the lease will need to outline the guard's hours. Another example includes the HVAC hours for your space. Sometimes the tenant controls the hours, but other times the landlord is in control of turning the system on and off.
When the Space Will Be Ready
The landlord may need to do some improvements to the space before you move in. The lease document will specify your lease commencement date. This is crucial for businesses that are already leasing a space.
Make sure you're covered. You don't want your current lease to expire before your new lease move-in date.
Insurance Requirements
The landlord will require the tenant to carry certain insurances to lease the space. This could include general liability, workers' compensation, excess liability, and more. You'll want to speak with your insurance agent to ensure that your insurance coverage lines up with the requirements of the lease.
Permitted Use of the Space
Landlords want to know what you'll be doing in the space. Commercial buildings have zoning requirements that specify that only specific business types are permitted in certain areas.
Renewal and Expansion Rights
Do you see your business growing in the next five to 10 years? If so, you'll want to look for renewal and expansion rights in your lease document. Renewal rights are especially helpful for businesses that plan to be in the space for an extended period of time. Expansion rights will allow you to expand the space your business occupies.
Engage an Attorney
You want to fully understand the documents before you sign them. A commercial lease agreement is legally binding, so have an attorney read and explain the lease to you so that you are fully aware of what you're signing.
Lease Types
There are two primary types of leases: a gross lease and a triple net lease. The difference between these leases is who is responsible for scheduling and paying for certain services in the space.
In a gross lease, the landlord is typically responsible for taking care of expenses, such as repair and maintenance issues. Alternatively, in a triple-net lease, the tenant assumes those responsibilities.
Post Move-In
Pop the bubbly! You've moved into your first rent space in a commercial property! Here are a couple of tips for ensuring that you're keeping up with the lease:
Automatic Rent Payment
Once you have moved in, consider setting up a program that will automatically pay your monthly rent (or per the frequency documented in the lease). There are reliable options that will take one more thing off your plate. Most landlords accept ACH payments.
Track Rights Negotiated in Your Lease
As mentioned above, there are some rights you can negotiate into your lease, such as expansion and renewal. These rights often come with specific deadlines that you must follow. If you miss those dates, you'll lose those rights.
Get More About Business Rental Space from Tenant Talk
If you're looking for more valuable insights, the entire second season of Tenant Talk is available on our YouTube channel! Or you can listen to the podcast on Buzzsprout. In episode 4, we discuss how to focus your marketing efforts.