Investor Resources
The Kenwood Management Company Family: A Supportive Environment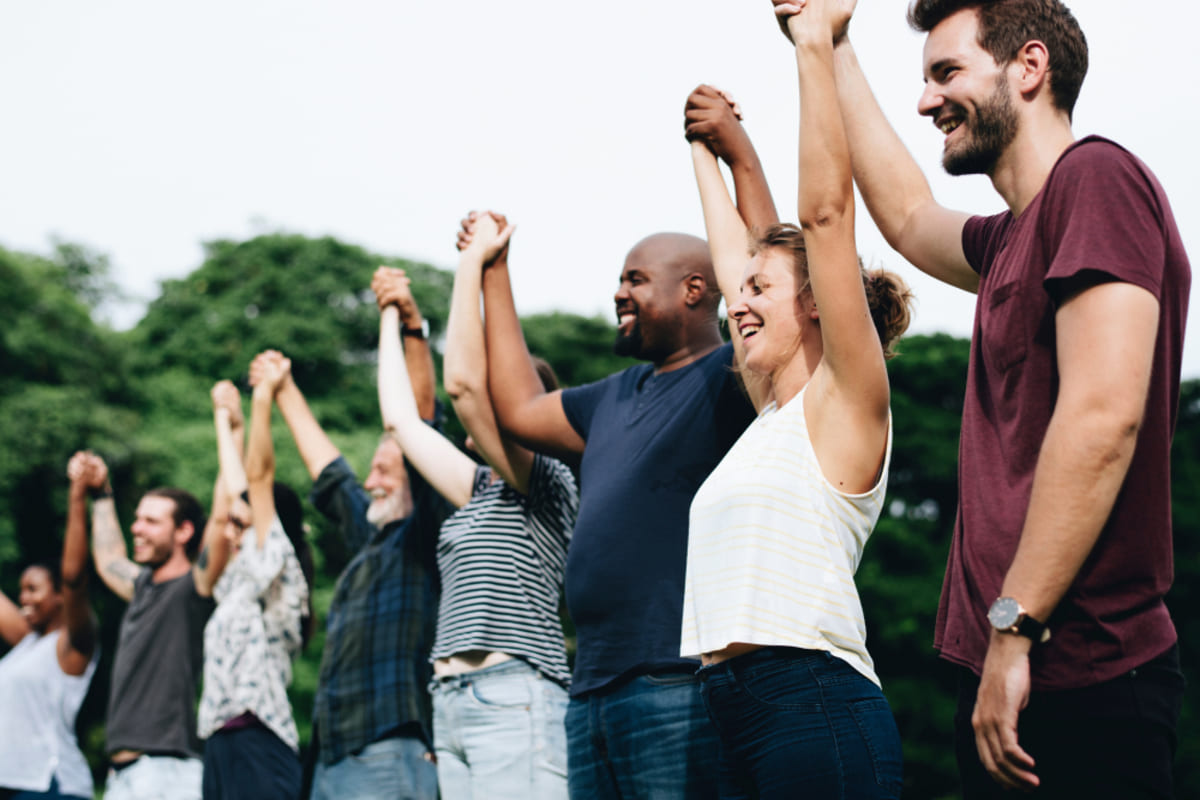 Investing in commercial real estate can be lucrative, rewarding, challenging, and sometimes stressful. It's a significant financial and time commitment, and without the proper safety net and support network, investors can feel isolated and neglected.
A supportive, collaborative environment where investors are confident, informed, and empowered to make the right decisions for their goals is essential for financial success, overall well-being, and happiness.
At Kenwood Management, we understand that real estate investment partnerships are crucial to aligning the goals of all parties and that by fostering a healthy community and sense of family, we can achieve more outstanding outcomes for all. This blog explores Kenwood's unique strategies to build a community and how this translates into success for commercial real estate investors.
Building Stronger Partnerships Through Collaboration
We've found that one of the best ways to build strong partnerships is to prioritize collaboration. That's why we strive to connect and collaborate with investors and tenants to improve success for everyone in our community.
Enhancing Trust Through Shared Goals and Financial Alignment
While some principals may syndicate deals with only borrowed capital and investment money, at Kenwood Management Company, we align our principal goals with investors by providing between 10-20% into every deal we organize.
This financial commitment helps establish trust, ensure unparalleled due diligence, and break down the divide between principals and investors in commercial real estate deals. Kenwood principals, therefore, are no longer faceless administrators but true partners in every agreement. We're involved in every property from both the management and investors' vantage points and can use these two perspectives to dive deeper into investor concerns or needs.
Kenwood-Only Management
We only manage Kenwood properties within our portfolio.
This strategy allows us to commit fully to boosting value, delivering better ROI, and maintaining a higher standard of principal-investor relationship. "No external management" means our attention and resources aren't divided but rather laser-focused on providing the best value for our investors.
Delivering Ongoing Investor Support
We work closely with investors to align goals and build the right investment plan that works for their needs, taking the time to understand their motivations and goals. By building solid relationships based on trust and communication, Kenwood is committed to helping investors achieve their long-term investment objectives.
This may include recommending a particular property type based on investor needs or exploring avenues for diversification within the portfolio. We understand that communicating with our investors is the only way to achieve mutual success.
Creating Personalized Investment Strategies
No two investors have the same goals. Therefore, no two investment strategies will benefit two investors in the same way. That's why we work hard to get to know your goals and deliver personalized strategies to ensure you reach your specific financial goals.
Working With Investors
One size does not fit all when it comes to investment strategies.
We understand that investors are unique, with varied goals, risk appetites, and long-term objectives, and we factor these considerations into our partnerships when communicating with investors. By working with investors to uncover their goals, we can build personal investment plans and start their investment journey correctly.
We build out personalized investment plans for investors with a fundamental understanding of:
Investor motivations: We understand that investors have varied reasons for choosing commercial real estate, including capital preservation, growth opportunities, tax offsetting opportunities, asset diversification, inflation hedge, cash flow, risk tolerance, retirement planning, and help investors choose the right option to align these needs.

Risk appetite: We keep a carefully constructed and logical exit plan for every deal and will never encourage investors to get involved with deals that don't align with their risk appetite. We acquire low-risk properties that require minimal upgrade enhancements to mitigate risk to investors.

Long-term objectives: We take into account how long investors are interested in being involved in a deal and work hard to boost property appreciation, building investor equity over this time.
Meeting these diverse investor needs requires careful planning, a clear understanding of individual goals, and the selection of appropriate investment vehicles and strategies. We also understand that conditions can change over time and are ready to help investors shift direction when needed.
A Focus On Diversification
Another way we meet the differing needs of investors is by offering a portfolio of diverse properties. Our portfolio spans office, warehouse, industrial, storage, and mixed-use facilities across the Baltimore and Washington DC area.
This diversification means we can further personalize an investment strategy for our investors, helping them choose the right property type and location to achieve their desired outcomes best.
Ongoing Transparent Communication and Reporting
You probably keep in close contact with your family members. When creating a supportive environment for our investor "family," keeping investors informed and staying in touch is a high priority.
Consistent Communication Practices
Thorough, routine communication is part of the Kenwood process, and honesty is built into every step.
We provide regular financial statements covering critical details, including:
Cash flow

Balance sheet

Income statement

Additional notes and insights

KPIs
This helps ensure investors are informed about their investment performance and always on top of how an asset is developing.
Additionally, we share regular property performance updates covering essential data such as:
Rent roll

Occupancy

Operating expenses

Capital expenditures

Cash flow
Our communication extends beyond financial insights and updates. We maintain a 24/7 policy for investors, providing various communicative avenues, including blogs, videos, and podcasting, to boost education and investor learning.
Long-Term Relationships
As value investors and managers, we target class-B properties that require minimal, lower-risk upgrades with large upside and long-term value. Due to this, we view partnerships as long-term relations that can deliver unparalleled benefits for patient investors.
Our focus on superior property management over a long-term hold period has yielded consistent returns. At the same time, our focus on renewals means steady cash flow and cultivating more desirable assets. Every asset acquired has beaten its forecasted returns, and properties such as our White Marsh Property have delivered exceptional value with a 187% gain over four years.
More generally, every Kenwood property held for more than ten years has beaten the S&P 500, and we owe much of this success to working with investors over long-term periods who put their trust in the Kenwood team.
Our Culture of Openness and Reciprocity
One of our critical strategies for maintaining ongoing relationships with investors is through our driving philosophy based on the "Go-Giver" laws. This core operating guideline is foundational to our success in cultivating a Kenwood community. Whether through providing online resources, unparalleled investor support, or a tenant-centric management style, we build generosity and honesty into every action.
This, in turn, builds long-term relationships; Kenwood can help investors achieve their investment objectives and navigate the ups and downs of the commercial real estate market with a long-term plan always at the forefront of our strategy.
Our Investors Love to Share About Their Successes
Stories of satisfied investors are a testament to the effectiveness of the Kenwood family approach. Explore some testimonials from partners and investors below.
Investor Support and Stress-Free Investing
We're proud of our investors and deeply appreciate the feedback related to our support and investor-forward approach, just like one of our longstanding partners, Mark Goldstein from Paley Rothman Attorneys At Law.
He shared, "We've been doing investing with Kenwood management going back to 1996, I am not their only partner, they are not my only partner but they have been my best partner; I never have to worry about the operation of a facility that we bought once we bought it. If there are problems with the investment, we have partners— which is very important, that can step up to the plate and put money into the transaction. So we have never had capital calls to any of our investors."
Openness and Accessibility
Our culture of openness and willingness to engage with investors doesn't go unnoticed, as Ken Fellows from Edge Commercial Real Estate shares, "The principals are accessible, always willing to listen, they don't make any snap decisions, I have been involved in some of their dinners and events, they seem to always include employees and brokers typically their goals are to own real estate for a really long time they're looking to establish a relationship not just with a broker."
Fellows continues, "Having worked with Kenwood Management Company for years and having been involved in many successful transactions, it is clear they have a thorough understanding of the process. They are very responsive, open-minded, evenhanded, and true to their word!"
Responsiveness and Ongoing Commitment
Our attention to detail and ongoing communication with our partners are critical to Kenwood's success in promoting a supportive environment.
Jim Darby from Transwestern, long-term partner, shares, "As an Investment Sales professional, it is critical that a purchaser be responsive to my offerings as well as live up to their commitment relative to terms of a transaction. Kenwood Management does both. Transwestern has closed several significant transactions with Kenwood Management over the past 15 years and looks forward to working with them in the future."
For Superior Support, Choose Kenwood Management Company
At Kenwood Management, we exemplify the importance of a supportive environment for commercial real estate investors. We foster a unique and unparalleled sense of family for real estate investment partnerships with our valued investors through collaboration, personalization, and transparency. Our culture of openness and transparency further helps to build trust and confidence in our investors that they've made the right choice.
If you're considering investing in commercial real estate, we encourage you to join the Kenwood family! Start with a free copy of our "Commercial Real Estate Investment Secrets: A Guide by Kenwood Management." You can also reach out to speak to a team member at any time!