Investor Resources
Kenwood's Technology-Driven Approach to Commercial Real Estate Leases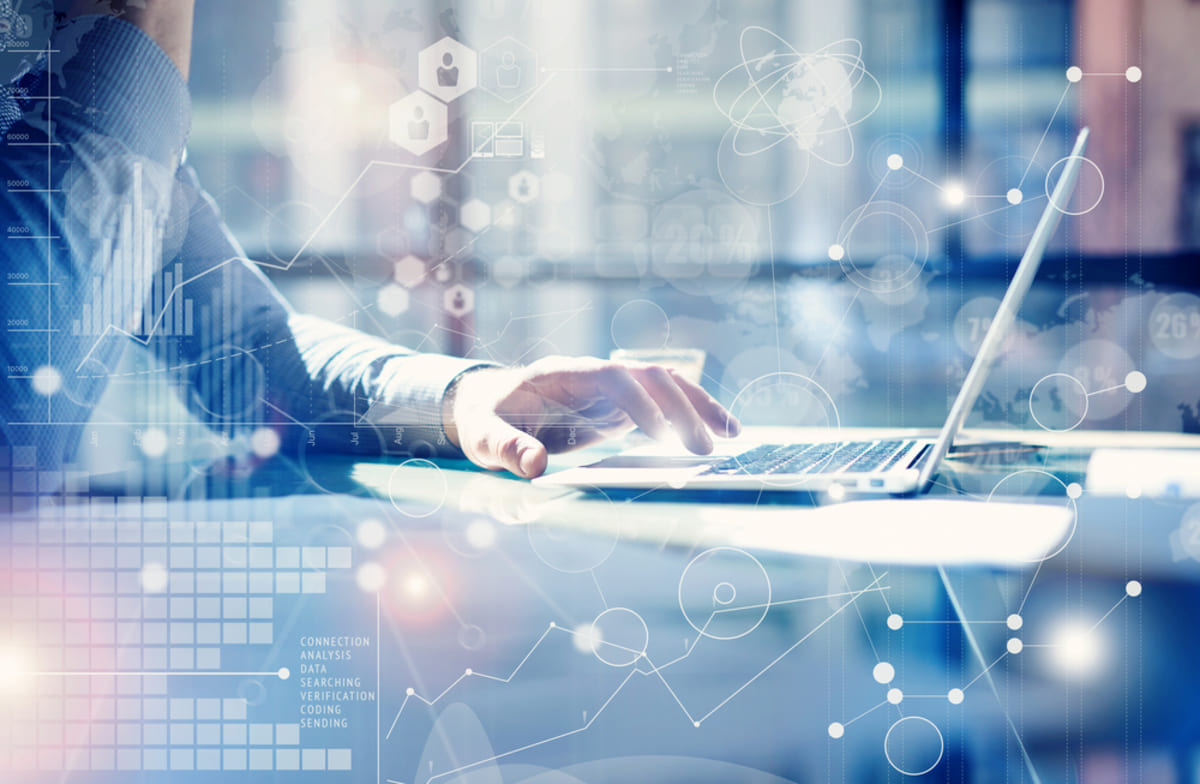 Multi-tenant commercial real estate is a fast-paced, complex landscape with several moving parts to navigate. As tenant expectations rise and investors seek more significant benefits while reducing stress and obligations, technology has stepped in to provide an indispensable solution to these challenges.
Property managers' success increasingly depends on their ability to adopt, utilize, and leverage property management technology to keep up to date in the ever-changing world. Expert managers can integrate tech solutions while maintaining the same level of service as an in-person specialist property group.
This blog looks at Kenwood's approach to technology and how we blend technology and tenant-focused strategies to provide a seamless, more personalized investing and tenant experience. We'll also examine how Kenwood's tech adoption translates into a more streamlined service and exceptional management operations.
How We Leverage Property Management Technology for Commercial Real Estate
Digital transformation in the commercial real estate space has been unprecedented. Prop-tech advancements have eased growing concerns about inflation, allowed managers to take greater charge of their assets, empowered team members, and opened the door for more positive investor and tenant experiences.
At Kenwood, we manage over 1.4 million square feet of office, flex, and warehouse properties in the Washington, DC, and Baltimore markets. This responsibility means we're dedicated to adopting innovative tech property management solutions that ensure a seamless experience across all geographical locations and asset types, building a consistent experience for investors and tenants.
The advantages of our property management tech include:
Centralization and CRM integration: Property management technology centralizes all critical data, including tenant information, lease details, financial records, and communication records. Additionally, the integration with customer relationships management software (CRM) means all customer and tenant information, facts, records of correspondence, and marketing tools can be leveraged from one source.
Cost efficiency: Automation of tasks, including rent collection, tenant communication, and vendor contracting. This cuts down on administrative time and labor costs.
Tenant experience: Online portals, maintenance tracking, and more streamlined communication build a positive tenant experience. Tenants know they are only one message away instead of draining back-and-forth email messaging or playing phone tag and wasting precious time.
Remote management and automation: By centralizing and automating tasks, including document management, contract agreements, and various other components of property management, we eliminate redundancy and time-sinks in the Kenwood workflow and management procedures.
Governance: The adoption and utilization of prop-tech allows us to adhere to governance requirements and industry best practices by eliminating errors in financial statements, costs, legal documents, and other essential data—which can lead to further costly issues or legal trouble.
Vendor deployment and tracking: We can remotely deploy our in-house maintenance team for everything from cleaning to maintenance requests, focusing on efficiency and speed with accurate automated work orders.
Document management: Commercial real estate is a document-heavy industry; from tenant screening reports to commercial real estate leases, keeping on top of critical legal documents and important financials is not only necessary but essential. Our prop-tech solution allows us to store, manage, and leverage required documentation abiding by all regulations and storage best practices.
By leveraging commercial real estate technology, Kenwood's technology-driven operations allow us to deliver greater efficiency and savings, which are translated to the tenant and investor experience.
Our Property Management Software Integration
One of the driving factors in our streamlined property management processing is the adoption of property management software. We employ a range of software with differing features to target outcomes, including data consolidation, task automation, accounting, reporting, automated processing, and more.
Some of the capabilities that we leverage include the following practices.
Data Centralization
Data is the lifeblood of multi-tenant commercial real estate, and when working at a large volume like Kenwood Management, it is an invaluable resource.
We can better understand our tenants' needs and deliver enhanced services by centralizing and leveraging data analytics. Additionally, we can unlock analytic metrics such as financials, vacancy numbers, maintenance records, and more to predict and enact growing trends or unexpected events in real time. For example, we can track and overlap lease expirations and timeframes to limit vacancy periods, enabling greater consistency and secure cash flow for investors.
Real-time Reporting
Reporting on assets in real time facilitates seamless communication between team members and promotes timely decision-making. As all team members can access the most up-to-date data and insights from a centralized source, there are fewer missed opportunities and greater transparency across the team.
This benefits our tenants and investors and helps promote more success and profitability all around.
Automate Workflows
Previously time-heavy tasks such as rent collection, tenant management, or rent renewal notifications have been automated to limit costly and administratively dense circumstances like lease expirations—a more common occurrence under a manual system.
Additionally, the benefits of these strategies allow us to react to changes in the market quickly without sacrificing quality or due diligence.
We Provide Tenant Portals for Communication
Communication, honesty, and support are the pillars of our outstanding tenant experience. We seamlessly leverage technology into this process to ensure accuracy without sacrificing the sense of the Kenwood community that tenants have come to know and associate with our management services.
Some of these tech-forward tenant strategies include:
Tenant portals: By implementing solutions such as online tenant portals, tenants can access self-service options, including online maintenance requests and document management. These portals empower tenants and reduce administrative burden for property managers. With this service, tenants can access such features as account balance payment history and digital receipts and communicate directly with the management team.


Maintenance service requests: Maintenance emergencies and system failures can be stress-inducing for tenants. Our online tenant portal allows tenants to request real-time maintenance support and communicate with property managers to express concerns.


Communication: Automated responses, friendly reminders, notifications, announcements, community news, and scheduling are ways we improve interactions with tenants through prop-tech. However, tenants also know they can speak to a manager anytime via the phone with 24/7 availability.
At Kenwood, we've found the balance of providing accurate tech solutions to tenant management without sacrificing the personalized support, attention, and tenant-centric approach, a hallmark of the Kenwood style.
We Increase Lease Administration Efficiency With Technology
Lease administration is a complex and time-intensive process.
Due to legal implications, successful lease administration is necessary to avoid legal battles, complaints, and conflicts. Processes like background checking, credit screening, lease negotiation, and execution have been automated, allowing Kenwood to reduce lead times and operate more efficiently with greater accuracy.
Some specific strategies include:
Digital lease signing: Digital lease signing eliminates the need for paper and in-person meetings, increasing security and reducing the carbon footprint of the leasing process.


Automated rent collection: Streamlining rent collection through property lease management software ensures tenants are on the same page concerning critical information such as rental due dates and escalations. Strategies like computerized reminders, notifications, and receipts are a win-win for tenants and managers.


Enhanced compliance: Through frequent and more accessible communication facilitated by online portals, tenants can be informed on changes in the legal landscape, including fair housing laws, building codes, and zoning laws, which may impact the lease terms or negotiation.
Through lease management software, we can track leases, enact quick changes, and ensure compliance across the board.
Technology Enhances Data-Driven Decision Making
As not only property management but also a specialist property investment group, we understand the power of data and how data-backed decision-making results in more significant benefits for all parties in a deal.
Some of the ways we leverage data for more robust decision-making include:
Property research: As we only manage properties within the Kenwood portfolio, we're highly selective about which properties we invest in. We leverage data to undertake deep market research, including metrics and trends, migration patterns, long-term hold forecasting, etc.


Improving property performance: By collecting data points on our properties' performance, we can reduce costs and provide our tenants with a high standard of care. For example, we employ Basys, which is an energy management software. This tool allows us to gather critical data on HVAC usage to reduce consumption and improve cost savings.


Management duties: Whether it's vacancy rates, maintenance recording, or finances, we use our wealth of data and insights to make more informed decisions, including setting time frames for when to lease, sell, and buy.


Risk mitigation: While our investing record is impeccable, we always measure data on historical records and trends to help us better prepare for uncertainties and maintain an exit strategy for each asset.
This data-driven approach ensures that decisions are based on facts and figures rather than speculation, leading to better outcomes for all stakeholders involved.
Benefit From the Best of Commercial Real Estate Technology With Kenwood Management
The changing pace of the multi-tenant real estate markets and growing complexities means investors must be especially discerning when choosing a commercial real estate management partner. Kenwood's technology-driven approach to property management for commercial real estate provides timely, accurate management solutions, data-backed solutions, and ongoing benefits for tenants and investors.
To learn more about Kenwood's tech-forward management solutions, reach out to our team. You can also request a free copy of our exclusive resource, "Commercial Real Estate Investment Secrets: A Guide by Kenwood Management."