Tenant Resources
Where Small Businesses Should Focus Their Marketing Efforts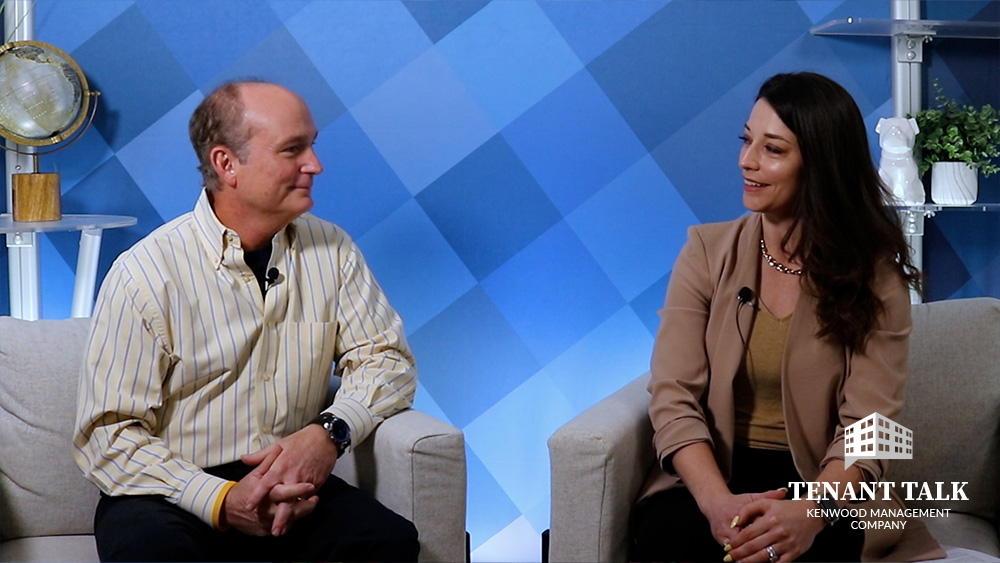 Marketing. Every business needs it if they want to grow their customer base. However, the realm of marketing is vast and small businesses have limited resources. The hard truth is that you can't do it all. Instead, small businesses can optimize both their time and effort by focusing their marketing strategies on the channels that make the most sense for their customers.
In episode four of Tenant Talk season two, Kenwood Management Principal Bill Singer and Illumine8 CEO and Founder Christina May discuss how small businesses can focus their marketing efforts. You can watch the full series on YouTube or listen to the podcast on Buzzsprout. Here's a quick recap.
Budgeting for Marketing
"Everyone underestimates what they should be spending on marketing," said Christina May. The typical marketing budget should be around 5% of your business' overall budget. This number can be scary for some owners, but imagine it like a retirement savings account. You are investing that 5% back into your business to help it grow and produce greater ROI.
Marketing Defined
Marketing is any action your business takes to attract customers and build an audience through strong messaging. The goal is to get people interested in your product or service while also retaining customers. There are various ways to generate interest from customers: writing blogs, posting to social media, landing placements in print, utilizing search engines, and so much more. It can be overwhelming, but the good news is that you don't have to do it all to create and implement an effective marketing strategy. By thoroughly understanding your budget and your audience, you'll find the best ways to reach your customers and garner their business.
Understanding Your Customer
After you've determined your budget but before you jump into your marketing strategy, understanding your customer is a core step all businesses need to take. Everyone in the world isn't going to be your customer. There are specific demographics that will be interested in your product or service—and that's a good thing! Marketing your product or service to a broadly defined audience is expensive, time-consuming, and ineffective. That's why it's so important to get to know exactly who is interested in your business and why they are interested.
Stages of Marketing
When marketing your product or service, there are three stages that allow you to provide an excellent customer experience and gain momentum for generating more business. The three stages include attraction, retention, and community building.
The first stage is attraction. This stage includes your efforts to find new leads and convert them into customers. The second stage is retention. Once they've become a customer, your marketing efforts change to keep them engaged. The final stage is community building. This stage includes customers and non-customers—people who like your company and speak highly of you to others.
As you build your marketing strategy, you'll want to determine where to focus. If you're a small business that doesn't have the resources to work on all three stages, gaining new customers through the attraction stage will probably be where you'll put most of your efforts. We've outlined a few ideas below to get you started.
Where to Focus Your Marketing
Now, let's get into the tactical side of marketing. You've determined your budget, you've identified your ideal customers, and you know how you want to focus your efforts. Now it's time to reach your customers. Here are some places you should start building your presence.
Online Directories
It needs to be easy for customers to find you, contact you, and purchase your products or services. A great place to start is Google Business Profile. If a customer searches your business on Google, you'll want your information to be front, center, and accurate.
Website
Your website is foundational to your business and should include all the essential information customers need to get in touch with you. There are many do-it-yourself options out there, but hiring a professional is also a viable option so long as you manage your pricing expectations. You should also be consistently updating your website with new content, whether that's new products/services, new contact information, or new blogs.
Social Media
These days, almost everyone is on a social media platform. It's an effective way to reach your audience if you incorporate it properly into your strategy. Ultimately, you don't need to be on every social media platform. This is why understanding your customer is so important. Ask yourself: What platform is my ideal customer most present on? If you have a younger audience, then TikTok or Snapchat might be a great option. If your audience is older, then Facebook or Pinterest would be better. That being said, there is nothing wrong with experimenting!
Bill recommends approaching social media like channels on a TV. Not everyone likes every channel. In Kenwood Management's experience, LinkedIn was the best platform to focus on, which allows them to reach the various businesses and professionals in the area.
Blogs
Blogs, such as the one you're reading right now, are a great way to market your business. Your business operates in a certain industry and you're likely an expert in that industry. A blog is an outlet for you to share that expert knowledge you have and solve problems for customers. By providing valuable insights, you can attract readers to your website and your product or service. The key for blogs is to write to the experience level of your potential customers. It's very likely that they are not experts like you, so avoid jargon or technical terms.
If you're looking for more valuable insights, the entire second season of Tenant Talk is available on our YouTube channel! Or, you can listen to the podcast on Buzzsprout. In episode 5, we discuss how small businesses can recruit and retain talent.