Press Room
NKF Hired by Kenwood Management to Lease Newly-Acquired 10400 Eaton Place in Fairfax, VA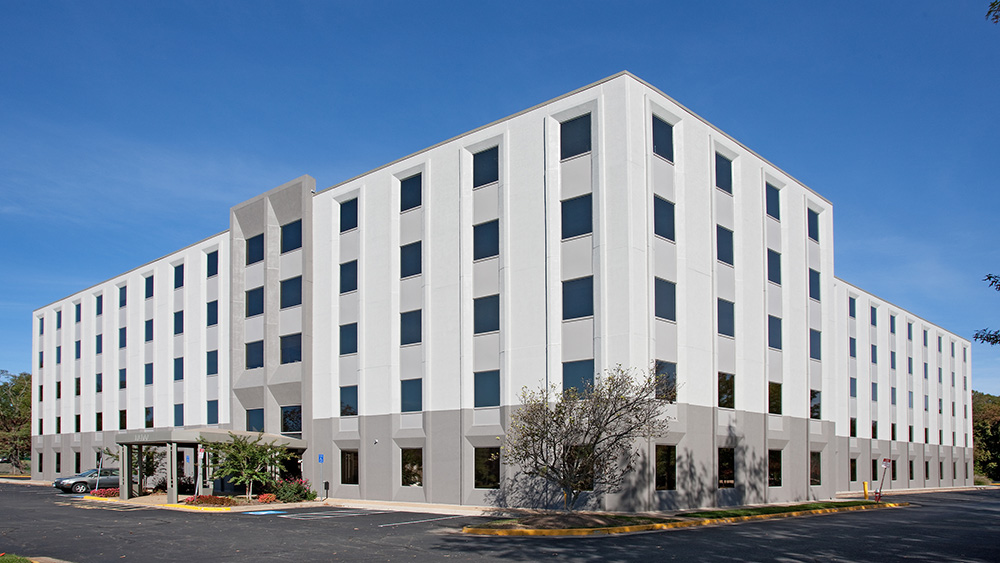 Washington, DC - January 8, 2020 - Newmark Knight Frank (NKF) has been hired to lease 10400 Eaton Place in Fairfax, VA following its recent purchase by an affiliate of Kenwood Management Company (Kenwood). The 100,000-square-foot building has been significantly renovated and has four new spec suites which will be available first quarter 2020. The spec suites range from 1,350 to 2,200 square feet.
"We have been representing the building for many years and are delighted that Kenwood Management has selected us to continue as their brokerage team," said Larry FitzGerald, executive managing director, NKF. "Given our history with the property and with Kenwood, we are confident that we can help achieve continued success in the property leasing."
Built in 1979, 10400 Eaton Place was recently renovated and modernized to meet the ongoing needs of tenants. Some of the new features include an onsite gym, a unique tenant lounge complete with snacks and beverage options and four new spec suites for tenants seeking more flexible lease options.
Kenwood was represented by Bill Singer, who added "We are very excited to be the new owners of Eaton Place. The building is ideally suited for smaller tenants who need access to I-66, Chain Bridge Road and Route 50 and also desire walkable convenience to shopping and great amenities. In addition, Larry FitzGerald and Cole Spalding have been incredibly successful leasing Eaton Place and we are pleased to be working with them."
10400 Eaton Place offers easy access to Route 50, Lee Highway and Chain Bridge Road and is one quarter mile south of Route 66 and is within walking distance of a new Regency shopping center that is currently under construction .
Leasing will be handled by Executive Managing Director Larry FitzGerald and Director Cole Spalding, who have extensive experience with the building having leased it for the previous owners.
About Kenwood Management
Kenwood Management Company, LLC was founded in early 1997 as a vehicle to attract private equity from long-term investors and to provide superior property management services to business owners throughout the Baltimore and Washington, D.C. metropolitan areas. Kenwood's current office, medical, flex and warehouse portfolio exceeds 1.4 M square feet.
About Newmark Knight Frank
Newmark Knight Frank ("NKF"), operated by Newmark Group, Inc. ("Newmark Group") (NASDAQ: NMRK), is one of the world's leading and most trusted commercial real estate advisory firms, offering a complete suite of services and products for both owners and occupiers. Together with London-based partner Knight Frank and independently owned offices, NKF's 18,000 professionals operate from approximately 480 offices on six continents. NKF's investor/owner services and products include investment sales, agency leasing, property management, valuation and advisory, diligence, underwriting, government-sponsored enterprise lending, loan servicing, debt and structured finance and loan sales. Occupier services and products include tenant representation, real estate management technology systems, workplace and occupancy strategy, global corporate services consulting, project management, lease administration and facilities management. For further information, visit www.ngkf.com.
Discussion of Forward-Looking Statements about Newmark
Statements in this document regarding Newmark that are not historical facts are "forward-looking statements" that involve risks and uncertainties, which could cause actual results to differ from those contained in the forward-looking statements. Except as required by law, Newmark undertakes no obligation to update any forward-looking statements. For a discussion of additional risks and uncertainties, which could cause actual results to differ from those contained in the forward-looking statements, see Newmark's Securities and Exchange Commission filings, including, but not limited to, the risk factors and Special Note on Forward-Looking Information set forth in these filings and any updates to such risk factors and Special Note on Forward-Looking Information contained in subsequent reports on Form 10-K, Form 10-Q or Form 8-K.