Press Room
Feldman Bergin Development And Kenwood Management Company Acquire Flex/Office Building Near BWI Airport For $2.3M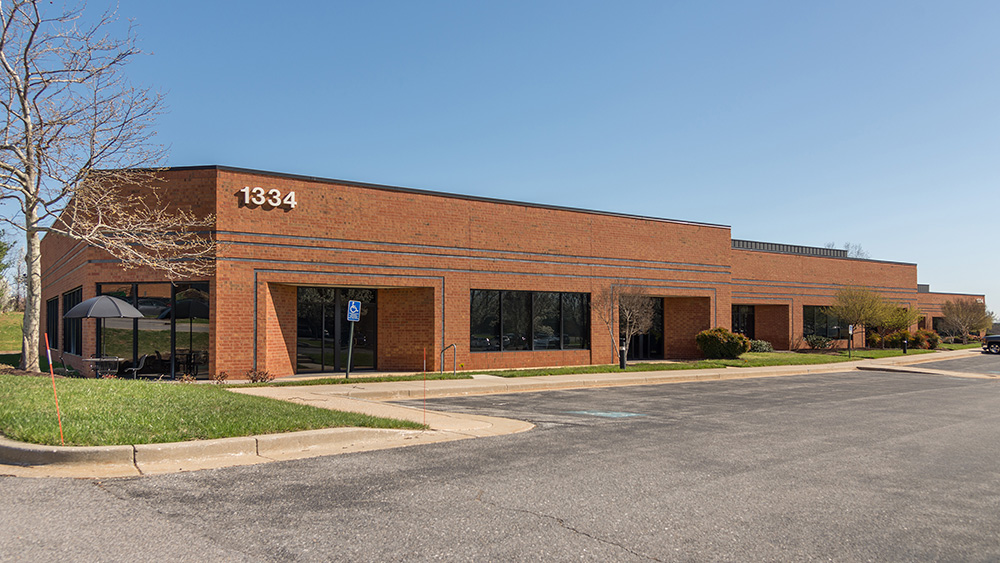 BETHESDA, Md. - Jun. 14, 2017 - This transaction represents inaugural project for Feldman Bergin Development, a new real estate entity founded by former Corporate Office Properties Trust and Washington Property Company executives.
Feldman Bergin Development, in partnership with Kenwood Management Company, have acquired 1334 Ashton Road, a single-story, 38,000 square foot flex/office building located in the Hanover section of Anne Arundel County for $2.3 million. This represents the inaugural project for Washington, D.C.- based Feldman Bergin Development, a new entity founded last November by Evan C. Feldman, formerly with Archstone-Smith and Washington Property Company and Robert Bergin, who was previously associated with Corporate Office Properties Trust. Kenwood Management Company, based in Bethesda, Maryland, is a 20-year old commercial real estate investment and property management company. The seller of the asset, Corporate Office Properties Trust, was represented by Cristopher Abramson of Newmark Grubb Knight Frank.
Lee & Associates Chesapeake Region has been selected as the exclusive leasing company for 1334 Ashton Road, which is currently approximately 40% leased and occupied. Kate Jordan and Marley Welsh will handle this requirement on behalf of the brokerage firm.
"This building is an opportunistic acquisition for our group, given the strong market fundamentals that exist in the Anne Arundel County sub-market, coupled with the strong value-add prospects of this asset," stated Robert Bergin, Co-Founder and Principal of Feldman Bergin Development. "We believe the economic drivers contained within this region, led by BWI International Airport, the presence of the federal government and a diverse business climate, will enable us to quickly accelerate the leasing of 1334 Ashton Road. Our team continues to scour the Maryland, Washington, D.C. and Northern Virginia region searching for our next value-add opportunity."
1334 Ashton Road, constructed in 1989 and contained within Commons Corporate Center, features a brick and glass exterior and is surrounded by a large surface lot offering free parking. It is strategically located near the intersection of MD Routes 170 and 176, and is within close proximity to MD 100. Arundel Mills is less than two miles away, while the terminal at Baltimore-Washington International Airport is less than four miles away. The City of Annapolis is positioned approximately twenty miles from the project and downtown Baltimore is twelve miles away. Two Maryland Area Rail Commuter (MARC) stations are located six minutes and nine minutes, respectively, from the site.
Feldman Bergin Development is a privately-held real estate development and investment firm based in Washington, D.C. with a combined thirty years of experience among its principals. Robert Bergin was Director of Investments and Asset Management for Corporate Office Properties Trust and has been involved in real estate transactions involving more than nine million square feet of space totaling more than $1.5 billion. Evan Feldman held management positions with Archstone-Smith, Washington Property Company and Fore Property Company. His accomplishments include the development of more than 1,200 high-rise apartment units, 800,000 square feet of commercial office and retail space, involving the deployment of more than $450 million in capital.
"Our team is extremely familiar with Robert Bergin's and Evan Feldman's real estate skills, knowledge and experience and we believe this partnership matches similar real estate and business philosophies. We hope this joint venture represents the first of many acquisitions together." explained Bill Singer, Principal of Kenwood Management Company.
Founded by Henry Bowis, Phil Ackley and Bill Singer, Kenwood Management Company seeks to build client wealth by acquiring and managing value-oriented income commercial properties located throughout the Baltimore-Washington, D.C. metropolitan region. Kenwood's portfolio currently consists of over 1.3 million square feet of office and industrial space.
"Our research shows long term growth in the Anne Arundel County/BWI marketplace, and this asset matches our acquisition criteria for value creation in submarkets with strong economic drivers and immediate access to retail and transportation amenities," Singer added. "This building is perfectly suited for tenants that seek flexible flex/office space near BWI Airport, Fort Meade, Columbia and Annapolis."
"We intend to market 1334 Ashton Road to a variety of end-users including the business services and defense contracting industries," stated Kate Jordan, Principal with Lee & Associates. "The advantages of this asset include the availability of a below-market rate, combined with our ability to offer smaller bays to satisfy any real estate requirement. The new ownership group has the resources to invest considerable resources to tenant build-outs, which is a point of differentiation in the sub-market."
Lee & Associates is a commercial real estate brokerage, management and appraisal services firm. Established in 1979, Lee & Associates has grown its service platform to include offices in the United States and Canada. Lee & Associates provides superior market intelligence in office, industrial, retail, investment and appraisal to meet the specialized needs of our clients.