Tenant Resources
Tips for Small Businesses to Grow Their Network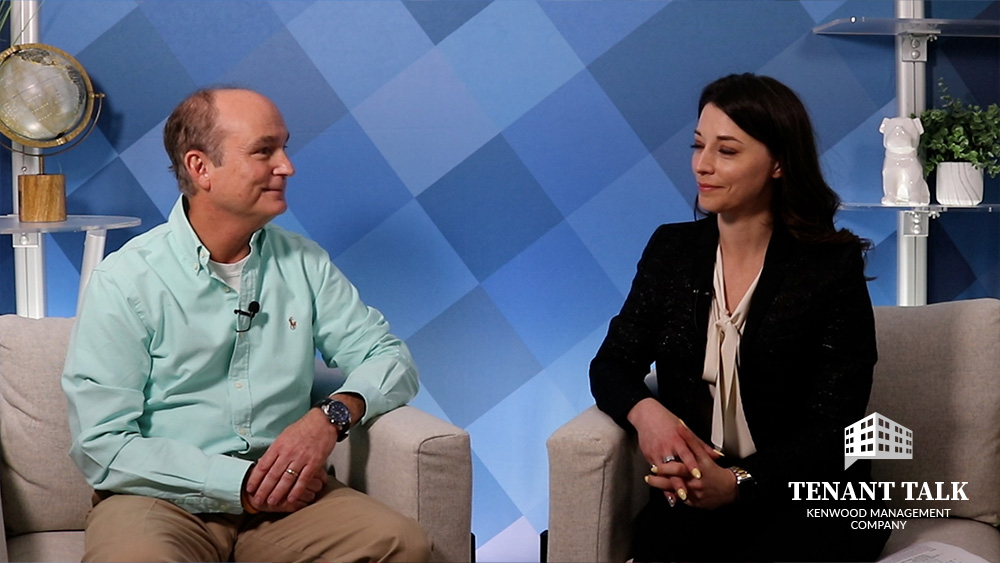 Kenwood Management is excited to welcome back Tenant Talk for its second season! In season one, we discussed topics such as building a values-based culture, outsourcing talent and managing relationships for referrals. Season two will cover a new variety of new topics packed with helpful insights and tips for small businesses looking to grow and thrive.
In episode one of Tenant Talk, Kenwood Management Principal Bill Singer and Illumine8 CEO and Founder Christina May provide advice on how small business owners can network and form new connections for their business. You can watch the full series on YouTube or listen to the podcast on Buzzsprout. Here's a quick recap.
Tip #1: Approach networking as a two-way street.
When networking, we might approach someone who has insights, ideas, or resources that will benefit us and our business. However, relationships are give and take. Instead, approach people with something to offer them first. "Through giving, you will also get," said Bill Singer. This follows the rule of reciprocity. If you do someone a favor, you're more likely to then receive a favor from them in return. This allows you to form deeper, more meaningful connections rooted in authenticity, curiosity, and genuine interest in each other.
Tip #2: Don't forget to follow up.
How many times have you attended a networking event and exchanged business cards with someone only to never hear from them again? Taking initiative and continuing the conversation is key, especially if you can provide ideas or relevant information that may be helpful to your connection.
Tip #3: Find relevant networking groups.
There are a lot of people out there who are encountering very similar experiences as you, whether that's starting a new business or trying to break into a similar industry. By finding those networks, you'll be able to tap into a wealth of knowledge as well as provide your own relevant knowledge. Good places to start include your local chamber of commerce, industry associations, and your college alma mater.
Tip #4: Seek out individuals similar to yourself.
If you find yourself sweating at the thought of "working the room," you're not alone. Christina May considers herself to be an introvert and a "reluctant networker" where large networking events are simply not her ideal situation. If you find Christina to be relatable, you might want to try her approach to networking. She seeks out people who are also reluctant networkers—the people on the fringe of the room hovering near the exits. For these people, networking isn't about working the room. It's about engaging in meaningful conversations that forge deeper connections.
Tip #5: Not every event is a networking event.
Your child's baseball game is not the place to be handing out business cards. We like to think that goes without saying, but you'd be surprised how many people don't understand those boundaries. "It's not always about business—even here in D.C.," said Christina.
Tip #6: Quality is better than quantity.
Even during a networking event, it isn't about handing out your business card to as many people as possible. It's about finding the right connections where both of you benefit from building a relationship. LinkedIn is a great resource for anyone trying to expand their network and meet people digitally. However, simply reaching out to strangers in order to increase your connections base doesn't build the quality relationships you'll need to truly make the most out of your networking efforts.
Tip #7: Volunteering takes the pressure off networking.
If attending a networking event is not your style, try giving yourself a purpose while meeting people. If you volunteer to work the check-in desk at an event for a local organization, you'll meet everyone who attends in a less awkward situation. This provides a commonality that will help you naturally approach people.
If you're looking for more valuable insights, the entire second season of Tenant Talk is available on our YouTube channel! Or, listen to the podcast on Buzzsprout. In episode 2, we discuss leasing versus buying a commercial space.