Tenant Resources
The Pros and Cons of Leasing vs. Buying Space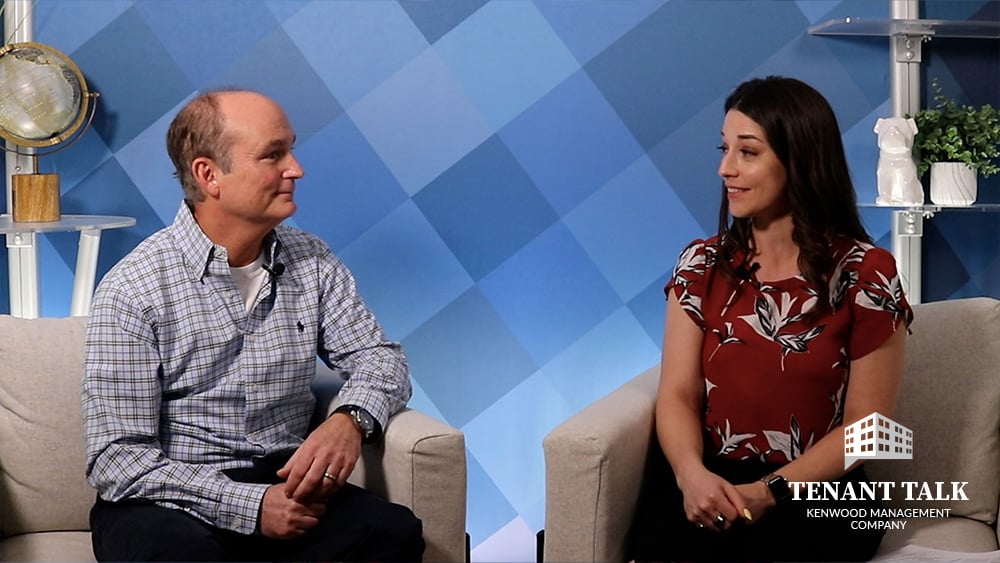 Whether you're a small business owner looking to move your work out of the house or an established business wanting a new space, you'll likely find yourself at the crossroads of a major decision. Do you lease a space or do you buy a space?
In episode two of Tenant Talk season two, Kenwood Management Principal Bill Singer and Illumine8 CEO and Founder Christina May discuss the advantages and disadvantages of leasing and buying a space. You can watch the full series on YouTube or listen to the podcast on Buzzsprout. Here's a quick recap.
Leasing a Space
Maintain flexibility for growth. Consider the business now and what it may become in five to 10 years down the road. If you're expecting to add more personnel or new services, then leasing a space is a great option. Leasing allows you the flexibility of changing space alongside your business as it grows.
Spend less time caring for the space. Consider how much time you're willing to spend toward maintaining your space. When leasing space, your landlord could be in charge of handling maintenance requests, paying property-related bills, and scheduling contractors depending on the lease type.
Reduced outlay for property improvements. Leasing eliminates the need for a tenant to fund capital improvements to the property. When you lease, the landlord typically covers these costs.
Find more space options. Generally, there are more leasing opportunities to help you find the building that suits your business best. Whether you're looking for a multi-story building, a beautiful lobby, warehouse space, or the perfect location, you're more likely to find what you need when leasing.
Buying a Space
Customize your space more. Owning a space allows you to customize it. Whether it's adding your business's brand or designing the space to fit your specific product or services, you'll be more free to make those changes without getting a landlord to provide approval.
Control building expenses. As the owner of the property, you have more control over maintenance and building expenses.
Transfer customization more easily. If you customize your leased space, you won't be able to take the changes with you if you decide to move locations. For example, a studio with custom lighting and design would be difficult to transfer to a new leased space.
Build equity. Purchasing a space allows you to build up equity from owning the real estate and paying a mortgage.
Final Recommendation
For businesses just starting out and still growing, the flexibility of leasing a space is a strong option. For stable businesses, purchasing a space provides the customization opportunities to create a space perfect for your needs. However, no matter what stage your business is currently, it's best to weigh the pros and cons of both options to see what makes most sense for you.
If you're looking for more valuable insights, the entire second season of Tenant Talk is available on our YouTube channel! Or, listen to the podcast on Buzzsprout. In episode 3, we discuss what you need to know to lease your first space.