Tenant Resources
Refresh Your Office Design With a Limited Budget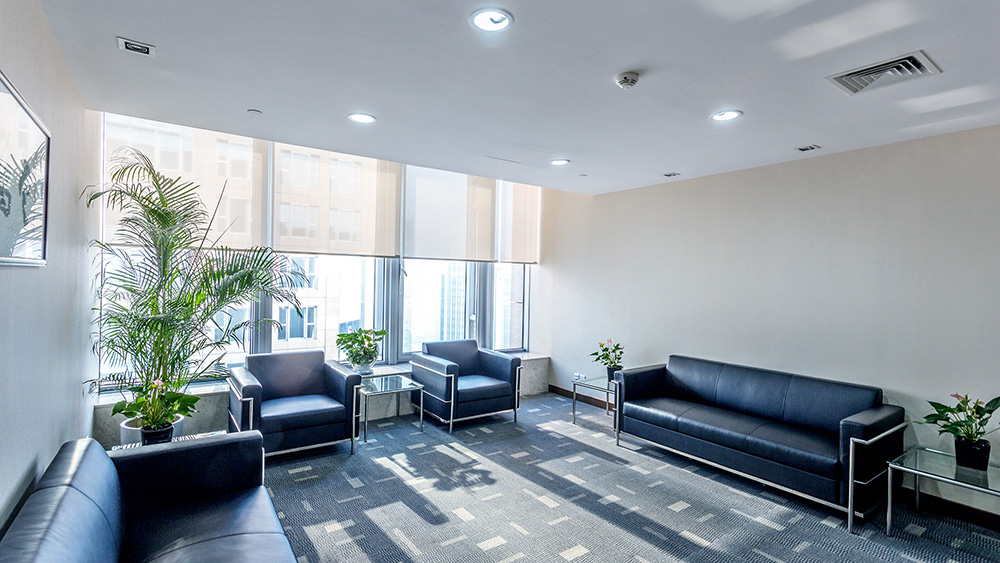 Good office design is paramount to creating a workspace that inspires creativity and increases productivity. When is the last time your office has been refreshed? Does it draw in your employees, clients, and visitors to your space? If your answer cannot be a definitive "yes!", then it's time to consider upgrading your office space.
Design has the subtle ability to impact behavior in the workplace, both positively and negatively, giving the employees spending over a thousand hours each year in the office a sense of purpose and inspiration. A good first place to start is to evaluate how you feel when entering your workspace and then setting some goals for improvements. Making striking design changes does not have to be an enormous financial investment.
There are many elements at play in creating quality office design. All of which should lead to a space that allows employees to thrive and reach their most productive flow of work. Good office design fosters a sense of purpose, inclusion, and comfort. This purpose is central to making employees feel cared for and that their work is valued.
The Planning Stage
Before jumping headfirst into the work of updating your office space, it's important to have a well-thought-out and crafted plan. Bring trusted members of your team together, conduct polls to gain insight into what employees are experiencing currently, and begin forming a plan of action. It's important to determine how your current space can best your team members so that they can be addressed effectively.
Beyond being in touch with employee wants, you should consider the needs of your business and the space available to you. Spaces should be crafted to get the most out of their intended purpose. Finally, develop a budget before beginning to choose design elements. The project will need these financial guidelines to inform decisions along the way.
Time to Design
Once the budget has been established, it's time to make decisions about the major design elements you would like to improve. Big factors that can create an impact without breaking the bank are lighting, color, art, and textures. There should also be a focus on striking a balance between beauty and function. A beautiful workspace that is uncomfortable or inefficient continue to have a negative impact on morale and productivity. Similarly, a stark and function-only design will be cold and have a negative impact on the health and happiness of your employees.
Now that price and function have been considered, an overall style should be thought out and defined. It can be helpful to create a plan or "mood" board, ideally in our space because it will help your team connect better to the "feel" (i.e., colors and textures) you are seeking. This will assist in making the best décor and furniture inspiration choices. Seeing design ideas together in one place will keep the aesthetic goals at the forefront and help to keep the design cohesive throughout your office space. Now let's discuss some specific design elements with the biggest impact:
Lighting
Many studies have been carried out addressing the way light affects our brains, overall wellbeing, and its impact on productivity. Cool workplace lighting helps establish a certain mood. Consider different lighting options throughout your office to have the most impact. Natural daylight is also critical to our health and should be maximized wherever possible.
Color & Texture
A very affordable way to completely update the design of your office and change the aesthetic is through color and texture. Painting the walls of your space with updated colors can make it feel new and refreshed. Enlist the help of a quality painting company and designer if the budget allows, to help you choose the best colors. Adding textures can bring warmth and charm even on a limited budget. Rugs and furniture are a big consideration. Furniture needs to be comfortable as well as functional and the fabrics should feel good to the touch.
Plants & Art
Adding additional design touches like art and plants will further enhance your space. Art should fit the aesthetic of the office design and be pleasing, but not dull. Ideally, original artwork should be selected over mass-produced pieces. Consider working with a local artist to add a personal touch to your space. Plants are a necessity for most workspaces as they improve mood, clean the air, and reduce stress in employees.
Enjoy Your New Space!
After the time planning and upgrading your workspace it's time to sit back and enjoy these affordable, but dramatic changes. You might consider hosting an event or a friends and family gathering to reveal the updated space and create a sense of pride among your employees. Designing an office space that is aesthetically pleasing and a boost to company productivity and morale can be accomplished within any budget!
At Kenwood, we are proud to work with our tenants to create beautiful and functional spaces for their work environment. With our fully customizable office spaces or our ready-to-occupy spec suites, our team has everything you need to get the right feel for your company.