Tenant Resources
How a small business can leverage social media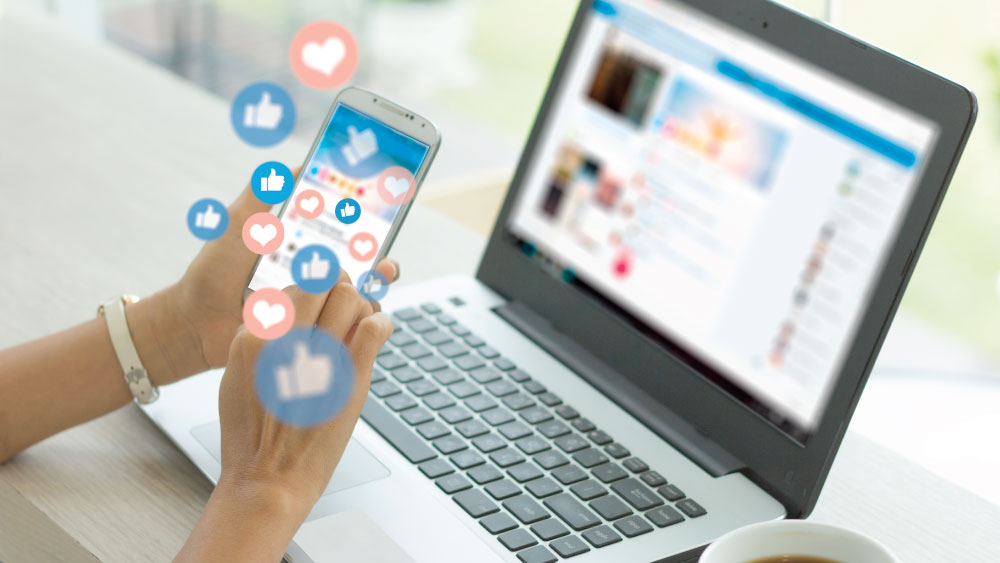 Most people know that social media is a powerful tool. It's a quick, inexpensive way to reach a large audience. However, starting and maintaining your brand's social media presence can seem overwhelming and it may often get moved to the back burner. Even so, social media is not something to be overlooked. People are 57.5% more likely to buy from a brand that they engage with on social media. Whether you're looking to refine your online presence or are just getting started, we've outlined some ways you can leverage social media to help you grow your business.
Determine your goals
So, you've decided you want to get your brand established on social media. Before you jump right in, ask yourself this first: What are the business goals that you hope to accomplish by building your presence on social media? The answer to this question will allow you to properly shape your posts and maximize their impact for your business.
According to Sprout Social, the most common goal set by social marketers is to increase brand awareness. Other common goals include increasing community engagement, growing brand audience and increasing website traffic. The goal you choose then influences which platforms you focus on and the content you post. For example, if your goal is to increase visitors to your website, then your social media posts should include a link to your website and a call to action that drives them to click on the link to learn more. Instagram wouldn't be a strong platform to focus on because it doesn't allow for clickable links in posts. Let your goals guide your decision-making as you continue to build and establish your brand on social media.
Choose your platforms
There are a lot of social media platforms out there: Instagram, LinkedIn, Twitter, Facebook, TikTok, Reddit. The list goes on, and it continues to grow. You might be inclined to get your brand on all of them. The more the merrier, right? Not necessarily. Each platform is unique. The primary differences include the audience that is active on each platform and the type of media posted to each platform. At this point, you should ask yourself: Who are my customers and what social media platforms are they most active on?
Age is a demographic that can strongly influence which social media platforms your brand should focus on. Across the board, Facebook is a great platform to start on, but it's especially important if your customers are among the older generations. According to Pew Research, 73% of U.S. adults ages 50-64 are on Facebook whereas 29% of them are on Instagram. On the other hand, 71% of U.S. adults ages 18-29 are on Instagram. Understanding the audience commonly engaging with your brand is imperative when selecting which social media platforms to focus on.
Establish a calendar
Now that you've decided which platforms you want to be active on, it's time to brainstorm what you're going to post about. Again, this is where your goals will help guide your decisions. If you're running low on content ideas, do some research. Look to your competitors to see what they're posting about, then think of ways you can make it your own. As you begin to plan, make sure you adhere to the strengths and limitations of each platform. For example, Instagram relies on a photo or video for each post while Twitter has a 280-character limit for each post.
Once you have content ideas, a social media calendar is a great tool for planning and staying on track with your posts. Your calendar can be a simple spreadsheet outlining the dates, copy and image of each post. It enables you to plan in advance by filling out posts for the coming days, weeks or even months. It also ensures that you'll never miss an important moment, such as a holiday or relevant event. Establishing a social media calendar helps you stay organized and consistent with your posts.
Engage with your customers
Social media is a great place to pull back the curtain on your brand and start building relationships with your audience. After all, 71% of customers are more likely to purchase from a brand after a positive experience on social media. The most common reason people reach out to a brand on social media is simply because they have a question. Are you open on Thanksgiving? Can I rent out this space? Someone also might engage with you on social media if they have an issue with your product/service, want to praise your product/service or want to share their experience. This serves as a great opportunity to cultivate positive relationships with your customers. When engaging with your audience on social media, a timely response is key to developing deeper relationships.
Keep it up!
Social media is an ongoing process for your brand to maintain. Posting regularly lets your customers know that you are active and available. Most importantly, as you maintain your social media accounts and grow your followers, you'll start to notice which types of posts garner the most attention. By maintaining your posting momentum, you'll continuously be able to improve your content and increase engagement with your brand.
Looking for more resources on how you can grow your small business? Join the Kenwood Community! Stay up to date on the latest trends and insights that help your business tackle any challenge.